This came about as I was watching Star Trek TNG. also I had basically been shoved aside by a pack of wild "Bro"s that day. any chance I get to make fun of douche bags is a win day for me.
So you know what is really dumb… THIS. Capcom…  I love Mega Man Legends  and I want to pay you to make more of it. Please take my money. Here. this is all of it. Take it… do you not like my money? Are you allergic to it?
Did you guys ever play either of the legend games? I always loved the scary isolation the dungeons had.
Somewhere data the monkey has stop dancing and is trying to slit his non existent  wrists with your old PS1 memory cards.
Here's a dumb warm up sketch I did the other day…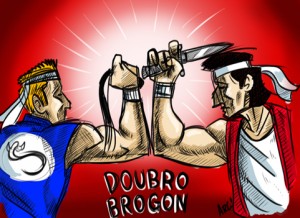 I HAZ TWITTER AND DEVIANTART AND A BOOKFACE PAGE!