on
February 12, 2014
at
12:01 am
Lynn and I have a standing agreement that whoever is left standing gets to walk away from this relationship.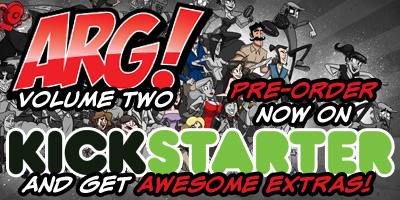 There's only 9 days left to Pre-Order ARG! Volume 2 on Kickstarter and get a whole bunch of free extras like wallpapers, stickers, a special thanks and a pdf.  We're only 10% away from getting a button set added in every pre-order. Every little bit helps!
Also here's every character I drew for the cover. I drew them individually so I could compose them. Some of them get covered up by other characters so I thought it would be fun to see them all in their glory.
Happy Wednesday folks!