This is why you never get in the car with me. Also because I'm a stranger and your parents should have taught you not to get into cars with strangers.
I made some buttons that I'm going to be selling at the 2 cons I'll be attending this summer!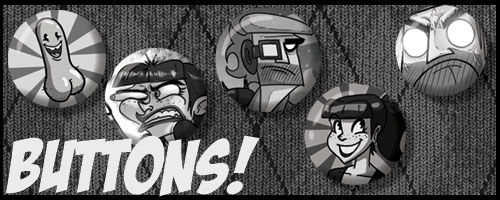 Speaking of cons, the first on I'll be at this summer is ConBravo in my Hometown of Burlington Ontario, July 27th-29th. There'll be lots of cool guests there, like the Angry Video Game Nerd, Roo from Clan of the Grey Wolf and 16 bit Gems Fame and of course ME! Tickets are on sale now and it's looking to be a pretty cool and intimate convention! I'll be doing sketches, selling prints of some of my comics and selling some other comic wares! If luck permits I may even have the book for sale! Come visit me, I'll be in the Artist Alley!
Have a great weekend folks!